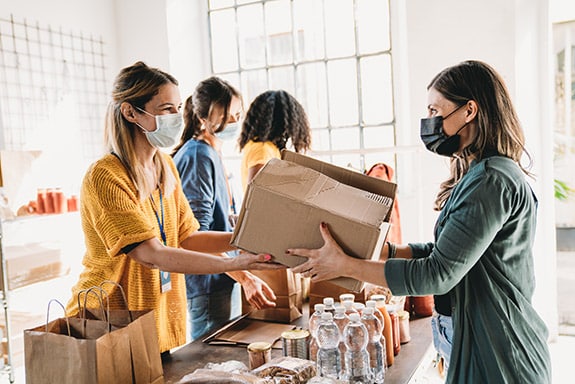 Why donate with cryptocurrency?
Similar to stocks, donating crypto is not a taxable event for the IRS, meaning that donors don't have to recognize any capital gains on the appreciated asset.
For example, say someone was an early investor in Bitcoin and had 10 BTC that they wanted to donate to support your mission. Typically they would sell that Bitcoin, which is worth about $623,000 as of this writing, pay capital gains tax upward of $185,000 depending on their income and location, and end up donating a net of about $438,000.
Instead, if they can donate the crypto directly, they can contribute the full amount and potentially deduct up to the full fair market value for tax deductions, leaving more money for your mission.
Donate with Cryptocurrency

Frequently asked questions
Is donating cryptocurrency tax deductible?
Donating cryptocurrency is a non-taxable event. Donors do not owe capital gains tax on the appreciated crypto that is donated and can typically deduct the fair market value of the donation on their taxes, as long the donated crypto has been held for at least one year.
How it works?
Follow the steps to donate crypto currency through our secure online third party vendor, the Giving Block. They will liquidate the crypto the same day and send RSF Foundation the funds to apply to existing or new fund(s) at the Foundation.
What cryptocurrencies do you accept?
Bitcoin (BTC)
Ethereum (ETH)
USD Coin (USDC)
Dai (DAI)
Dogecoin (DOGE)
Basic Attention Token (BAT)
Ethereum Name Service (ENS)
0x (ZRX)
1inch (1INCH)
Aave (AAVE)
Alchemix (ALCX)
Amp (AMP)
Ankr Network (ANKR)
ApeCOIN (APE)
API3 (API3)
Audius (AUDIO)
Axie Infinity Shards (AXS)
Balancer (BAL)
Bancor Network Token (BNT)
BarnBridge (BOND)
Bitcoin Cash (BCH)
ChainLink (LINK)
Civic (CVC)
Compound (COMP)
Curve (CRV)
Decentraland (MANA)
DeFI Pulse Index (DPI)
Dogelon Mars (ELON)
Enjin Coin (ENJ)
Fantom (FTM)
Fetch AI (FET)
Filecoin (FIL)
Gala (GALA)
Gemini Dollar(GUSD)
Injective Protocol (INJ)
Keep3r (KP3R)
Kyber Network (KNC)
Lido (LDO)
Liquity USD (LUSD)
Liquity(LQTY)
Litecoin (LTC)
Livepeer (LPT)
Loopring (LRC)
Magic Internet Money (MIM)
Maker (MKR)
Maple Finance (MPL)
Mask Network (MASK)
Merit Circle (MC)
Mirror Protocol (MIR)
Moss Carbon Credit (MCO2)
Numeraire (NMR)
Orchid (OXT)
PAX Gold (PAXG)
Polygon (MATIC)
Quant (QNT)
Radicle (RAD)
Rally (RLY)
Raydium (RAY)
Ren (REN)
Render Token (RNDR)
Saber (SBR)
Shiba Inu (SHIB)
Skale (SKL)
Smooth Love Potion (SLP)
Solana (SOL)
Somnium Space (CUBE)
Spell Token (SPELL)
Storj (STORJ)
SushiSwap (SUSHI)
Synthetix (SNX)
Terra (LUNA)
TerraUSD (UST)
Tezos (XTZ)
The Graph (GRT)
The Sandbox (SAND)
UMA (UMA)
Uniswap (UNI)
Wrapped Centrifuge (wCFG)
Yearn.Finance (YFI)
Zcash (ZEC)
What is your refund policy?
All cryptocurrency donations are final and we do not offer refunds.

Reminders for Donors
Please only send the exact cryptocurrency listed on the blockchain mentioned on the widget. Do not send any other cryptocurrencies (including layer 2, wrapped tokens, NFTs or other ERC-20 tokens not listed) as these are unsupported and may result in loss of donation. For more info, click here.