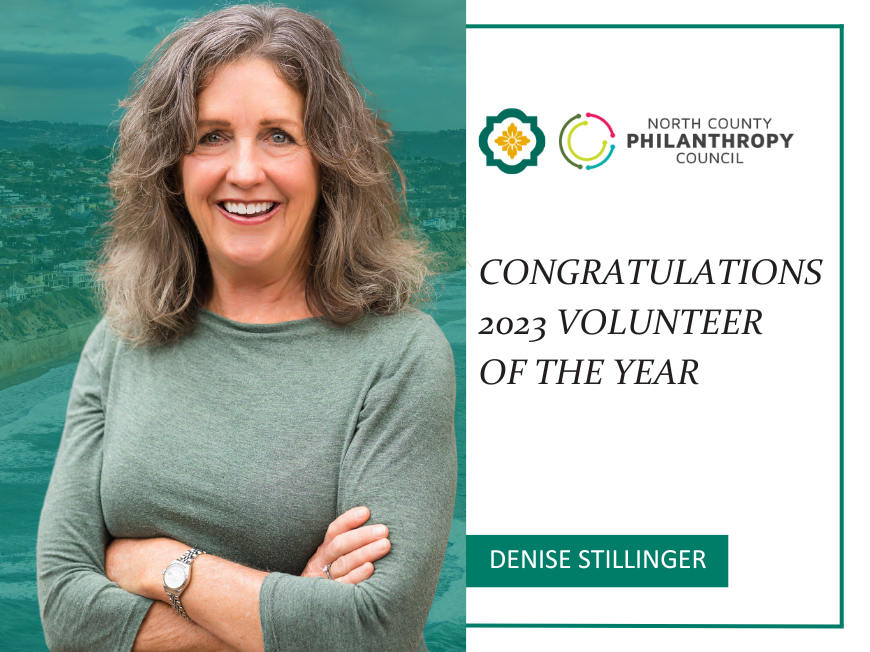 Rancho Santa Fe Foundation celebrates Denise Stillinger, the Foundation's Grants & Projects Committee Chairperson, by recognizing her with a 2023 Volunteer of the Year Award from the North County Philanthropy Council (NCPC). 
Denise's contributions have been critical in supporting the Foundation's endeavors. In her role as Grants & Projects Committee Chairperson, she leads a team that exists to help the Foundation carry out its charitable mission by researching, recommending and assessing the grants made from discretionary funds to San Diego region nonprofit organizations, in accordance with Rancho Santa Fe Foundation's mission to be a comprehensive center for impactful philanthropy.
The Rancho Santa Fe Foundation team was delighted to seize an opportunity through NCPC to acknowledge Denise for her remarkable contributions. Denise and colleagues from Rancho Santa Fe Foundation joined in NCPC's Volunteer of the Year Awards celebration on Friday, Nov. 3 at California Center for the Arts, Escondido.
What is the NCPC Volunteer of the Year Award?
According to the North County Philanthropy Council, the Volunteer of the Year Award program honors individuals who, "through ongoing involvement, have made a significant impact on the success" of the organization. Their volunteer service can be described as "innovative or exemplary, has helped mobilize other volunteers or generated increased resources for the critical mission of the nonprofit organization."
Karen Sprigle, Interim CEO of Rancho Santa Fe Foundation, commends Denise's influential leadership, stating, "Denise is an effective and optimistic leader who, as Chairperson of Rancho Santa Fe Foundation's Grants & Projects Committee, has been instrumental in strengthening the Foundation's philanthropy. She has guided our grantmaking to be more purposeful, inclusive and responsive to crucial North County needs."
Expressing her gratitude, Denise shared, "I am fortunate to work with an amazing group of people at Rancho Santa Fe Foundation. The staff and board have inspired me to share my time, treasure and talents to further our mission and vision, serving as the chair of the Grants & Projects Committee over the past two years."
A Legacy of Service to the Community
Denise's commitment to the community spans various roles. She played a pivotal role in establishing the San Elijo Lagoon Conservancy, now known as the Nature Collective, and served on its board for several years, earning recognition with the Cox Conserves Heroes Award in 2011 and an E.A.R.T.H. Award (Environmental Action & Restoration That Helps) from San Diego EarthWorks in 2012.
Moreover, Denise's impactful contributions extended to academia, where she served as a professor of biology at MiraCosta College's San Elijo campus, alongside her involvement on the board of its foundation.
Celebrating the Spirit of Giving
The NCPC Volunteer Awards are a celebration of the collective power of giving. They remind us that the true wealth of a community lies in its people—their empathy, their willingness to serve and their commitment to creating a better world.
Denise, the team at Rancho Santa Fe Foundation extends heartfelt gratitude for your unwavering dedication. Congratulations on this well-deserved recognition! Your leadership, generosity, wisdom and positivity elevate the Foundation and inspire its continued growth for maximum impact on nonprofit organizations in the San Diego region.