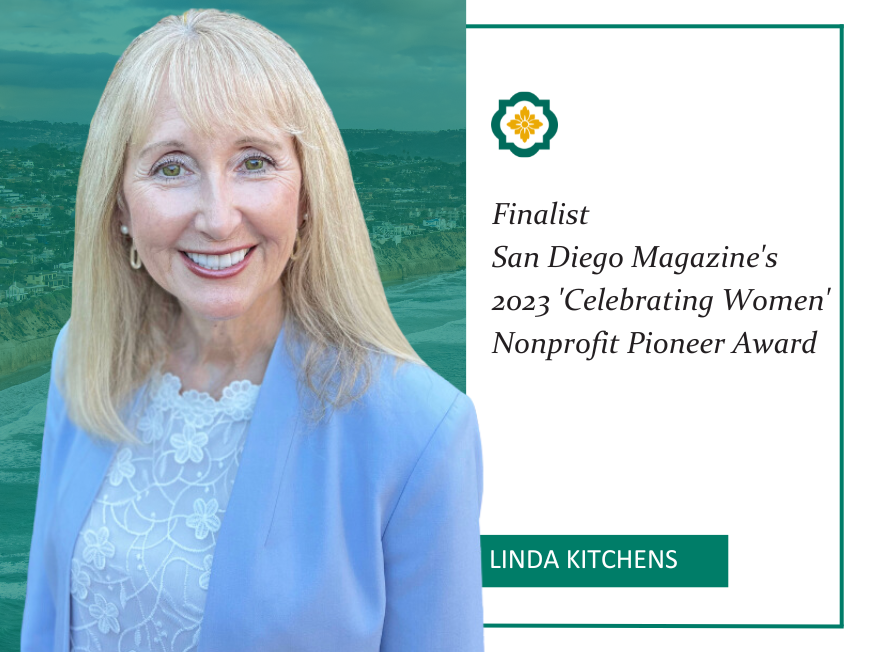 Join us in congratulating Rancho Santa Fe Foundation Board Chair-Elect Linda Kitchens for being selected as a finalist in the San Diego Magazine 2023 "Celebrating Women" Awards in the Nonprofit Pioneer category!
San Diego Magazine's "Celebrating Women" initiative seeks to shine a spotlight on extraordinary women who have made great impacts in various fields across San Diego. The Nonprofit Pioneer Award specifically recognizes those who have demonstrated exceptional leadership and dedication within the San Diego nonprofit community.
Linda Kitchens: An Integral Part of Rancho Santa Fe Foundation
Linda Kitchens joined Rancho Santa Fe Foundation's Finance and Strategic Planning Committee in January 2020, where her efforts to introduce and implement budgeting and operational enhancements streamlined decision-making processes, resulting in a more impactful grantmaking process. She ascended to the role of finance committee chair in January 2022. Today, Linda holds the executive position of board chair-elect and will officially begin her term in January 2024. As Board Chair-Elect of Rancho Santa Fe Foundation, Linda will set strategy, goals and objectives for the board, represent the Foundation in the community and serve as the direct supervisor of the chief executive officer.
"Linda Kitchens has been an integral part of Rancho Santa Fe Foundation, consistently embodying our mission to inspire philanthropy and strengthen the community," said Karen Sprigle, Interim CEO, Rancho Santa Fe Foundation. "This prestigious accolade acknowledges Linda's outstanding contributions to the nonprofit sector, and we couldn't be prouder to have her represent the Foundation."
Throughout her tenure, Linda has tirelessly worked towards advancing the goals and initiatives of Rancho Santa Fe Foundation. Her strategic vision, passion for philanthropy and ability to bring people together have been instrumental in fostering a culture of giving and making a meaningful difference in the lives of those we serve.
Community Involvement Beyond the Board
Linda's dedication extends beyond her role at Rancho Santa Fe Foundation. She has been actively involved in various community initiatives, forging partnerships and collaborations that amplify the impact of philanthropy. Her leadership style, characterized by empathy and a deep understanding of the needs of our community, has earned her the respect and admiration of her peers.
Linda sets a wonderful example of female leadership as board chair-elect of Rancho Santa Fe Foundation. Moreover, in her professional role as partner and director with wealth management firm Aspiriant, Linda plays an active role in promoting women in her workplace through initiatives like the Women Taking Charge task force, which she co-chairs.
A Well-Deserved Recognition: Celebrating Linda's Efforts
The San Diego Magazine "Celebrating Women" Nonprofit Pioneer finalist designation is a well-deserved recognition of Linda's tremendous efforts, and it reflects the values and principles that guide Rancho Santa Fe Foundation. We encourage our community to join us in celebrating Linda's achievements and in supporting the incredible work she continues to do in the San Diego nonprofit community.
Congratulations, Linda, and thank you for all you do!