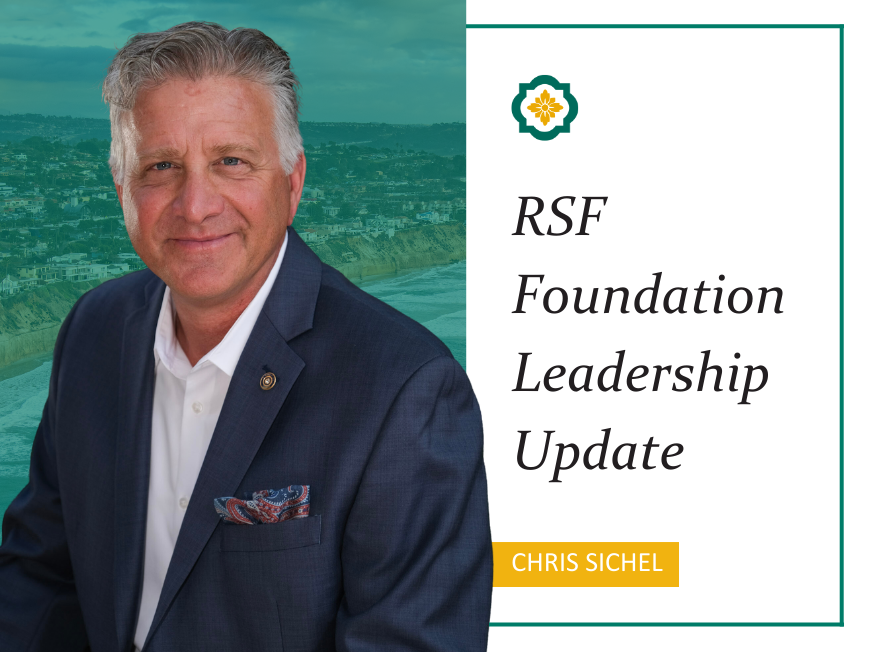 A message from Rancho Santa Fe Foundation Board Chairman, Ed Blodgett:
It is with heartfelt thanks for his invaluable contributions to our organization that I share our CEO, Chris Sichel, will depart from Rancho Santa Fe Foundation on September 20, 2023.
Through Chris' guidance, Rancho Santa Fe Foundation has implemented significant enhancements to our administrative and grantmaking operations. We have accomplished a great deal and our future path is an exciting one marked by increasing our impact in the North County region to address critical issues facing our community.
From Chris Sichel, our CEO:
"During my tenure at Rancho Santa Fe Foundation, I am immensely proud of the strides we've taken to not only honor our history but also to magnify our impact in the community we serve.

Over the last two years, we've improved our operations and grantmaking processes. Our board and staff evaluated the success of our current programs and we've done amazing work to clearly identify who we are as an organization and where our path will lead us.

We will replicate the success of The Patriots Connection grants program to other community impact areas to meet emerging challenges faced by local residents and nonprofit organizations. I am grateful for the trust bestowed upon me by the enthusiastic board of directors who have championed our efforts.

I am confident that Rancho Santa Fe Foundation's board and staff are primed to continue enhancing the lives of San Diegans. I am excited to witness the chapter of progress that lies ahead."
Looking Ahead
With the departure of our CEO, we want to assure our valued donors, fundholders, and grantees that the Foundation has remarkable executive management as we enter a new chapter.
Our dedicated Chief Operating Officer, Karen Sprigle, will assume the role of interim CEO, bringing a wealth of financial stewardship experience and a deep understanding of our mission, operational structure, and grantmaking processes. Karen joined Rancho Santa Fe Foundation in 2017. Before joining the Foundation, she held leadership positions at United Way of San Diego County and Bank of America.
Amy Myers will continue to serve as our Director of Philanthropy & Impact. Amy is a veteran philanthropy professional, who is responsible for fundholder stewardship, community engagement and cultivating relationships with Foundation stakeholders. Our entire team's collective expertise will guide us seamlessly through this transition period as we continue to pursue our mission and make a meaningful impact in the communities we serve.
A search committee will be appointed and we will work diligently to select Chris' successor. During the executive search, Chris is committed to assisting RSF Foundation as a trusted advisor to ensure continuity and progress. We look forward to remaining connected to Chris as he embarks on a new leadership position in San Diego's philanthropic community.
As North County's home for impactful giving, we value the trust and partnerships we share with our donors, fundholders, grantees, and community members. We are committed to transparency and will keep you informed about our progress.
More information will be provided as it becomes available. Please reach out to Chris or me with any questions via email or call (858) 756-6557.