San Diego, known for its rich military heritage, is home to many military personnel and veterans. But these communities face unique challenges, including navigating the high living costs in the region and the need for support services.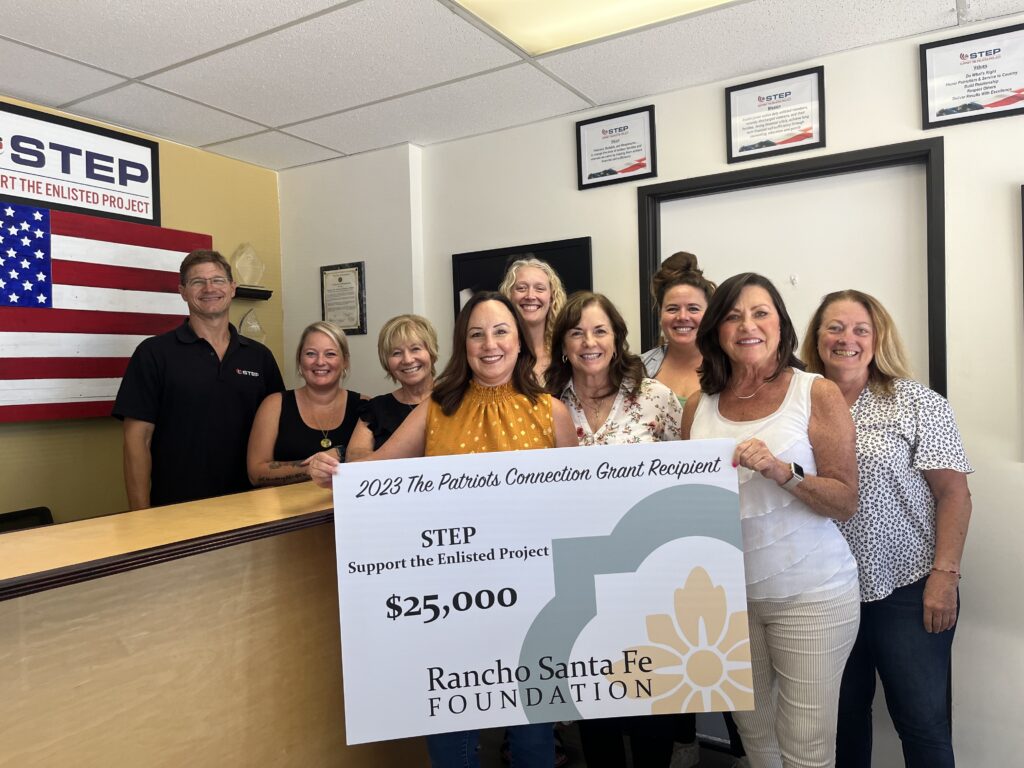 Rancho Santa Fe Foundation (RSFF) has been at the forefront of supporting the military community in San Diego since 2008, investing more than $2.4 million in local nonprofits through The Patriots Connection (TPC) grants program. The most recent program grant cycle awarded a total of $350,300, a sum that was distributed among 14 nonprofits serving military, veterans, and their families in San Diego County.
Among the recipients were well-known organizations like Armed Services YMCA San Diego, Biocom California Institute, Support The Enlisted Project and the Foundation for Women Warriors, to name a few. These trusted organizations have been instrumental in providing critical support to the military and veteran communities as well as their families.
Rancho Santa Fe Foundation is committed to honoring and supporting members of the San Diego military community for their service to our nation. The grantmaking goal of The Patriots Connection is to grow the capacity and sustainability of San Diego area nonprofit programs that serve active-duty military and veterans.
"We are thrilled to announce these grant awards to organizations doing such great work for our local military and veteran communities," said Chris Sichel, Rancho Santa Fe Foundation's president and CEO. "So many of us want to lift up and support current and former military service members and their families, and these grant recipients are the trusted organizations providing this essential support in San Diego. This important work would not be possible without the generosity and collaboration of our donors," he continued.
TPC grants are aimed at funding a diverse range of initiatives to enhance the quality of life for San Diego military personnel, veterans and their families through youth enrichment programs, emergency financial assistance, housing, homeless intervention and much more. You can read about the exciting projects TPC grant recipients have planned at the end of this blog post.
"The Patriots Connection at the Rancho Santa Fe Foundation has been, and continues to be, deeply invested in and responsive to the needs of our local military community," said Tony Teravainen, CEO and co-founder, Support The Enlisted Project. "We are extremely honored to be recipients of their grant funding and grateful for their partnership in working to make San Diego a better place for our service members, veterans and their families to live, work and enjoy. We created STEP to make positive long-lasting impacts in the lives of our military families who are facing a critical financial crisis. Rancho Santa Fe Foundation's support has given us the ability to help thousands of families move from financial crisis to a lifetime of financial self-sufficiency!"
In this recent grant cycle, The Patriots Connection Program awarded nine multi-year grants and five single-year grants. The Foundation believes awarding more multi-year grants allows its nonprofit partner organizations to experience a greater return on their investment of time in the grant application process, which, in some instances, can divert them from the more urgent work of serving their communities. A complete list of grant awards is below.
Rancho Santa Fe Foundation offers multiple grant cycles each year across three main grantmaking categories: education, health and military and veterans. The Foundation's next grant cycle, which will take place in fall 2023, will focus on improving K-6 academic success following learning loss in underserved North County San Diego communities.
Donors interested in learning more about impacting any of these grantmaking focus areas in the San Diego region are encouraged to reach out to Rancho Santa Fe Foundation. The team offers concierge-level service to leverage your dollars for even greater impact. Donate today or contact us.
Contact Us for Donations or Inquiries
The Patriots Connection 2022-2023 Multi-Year Grants
Alpha Project for the Homeless – $20,000

Alpha Lofts – Permanent Supportive Housing for Veterans

Alpha Lofts is a Permanent Supportive Housing program, providing 52 fully-furnished units of housing for veterans experiencing homelessness in San Diego coinciding with case management and support services to ensure housing stability.
Armed Services YMCA San Diego – $25,000
Military Youth Development Programs

The ASY San Diego's Family and Youth programs provide a solid foundation of support for military youth that helps to strengthen the family unit and keep children and families strong in the face of all challenges.
Fisher House Southern California, Inc. – $30,000

Family Support Services and Equipment for San Diego Fisher Houses

This project provides military families staying at Fisher Houses-San Diego with enhanced safety and security through the installation of a keyless entry system; quality sleep with the purchase of new linens and bedding; and hotel rooms near the hospital when houses are not available, so families and their children can remain near their loved ones being treated at the hospital, at no cost to them.
Foundation for Women Warriors – $35,000

General Operating Support

To continue preventing homelessness and enhancing the financial well-being of an increasing population of women veterans, the Foundation for Women Warriors has prioritized human capital and infrastructure investments to sustain programmatic 

growth and generate necessary funding. General operating funding will support critical program delivery positions and steward additional funding.
Kids' Turn San Diego – $30,000

Creating Brighter Futures for Children Project

This project seeks to bring happiness back to military-connected children who are experiencing family separations, divorce and military transitions which pose a risk to suffer emotional difficulties that can last a lifetime without interventions.
Social Advocates for Youth (SAY) San Diego, Inc. – $20,300

Military Family Resource Center

Funding will expand efforts to decrease social isolation and increase engagement in social services andsupport systems for military individuals and families in need.
United Through Reading – $20,000

United Through Reading for San Diego's Military and Veteran Families

United Through Reading supports the literacy development of military-connected children and the well-being of military and Veteran families by providing them the tools they need to stay connected through shared storytime even during deployment.
Wounded Warrior Homes, Inc. – $30,000

Transitional Housing and the Re-Integrative Services That Ensure Veterans Thrive

Through this project, Wounded Warrior Homes will stabilize 102 veterans and 367 veterans/dependents via the provision of transitional housing, re-integrative case management services and a food pantry.
Zero8Hundred – $20,000

Veteran Transition Support Program 

Zero8Hundred provides service members and military spouses transitioning from military to civilian life with personalized one-on-one counseling and wraparound support from clinically trained social workers.
The Patriots Connection 2023 One-Year Grants:
Biocom California Institute – $15,000

Veterans in Life Sciences

Biocom Institute's Veterans in Life Sciences program provides an opportunity for transitioning active duty and military veterans to explore and transition into careers in the life science industry via symposiums, mock interviews, career fairs, mentorship, industry networking, educational seminars and training.
Support The Enlisted Project (STEP) – $25,000

Emergency Financial Assistance (EFA) and Financial Literacy for Military Families

STEP helps low-income military and Veteran families who are facing a financial crisis by providing financial counseling, education, and emergency funds to help them achieve financial self-sufficiency and make this their last financial crisis. Emergency funds cover rent, utilities, auto payments, critical baby items, essential household appliances or emergency travel.
Healing Wave Aquatics – $30,000

Aquatic Therapy for Low-Income Veterans and Military

Healing Wave Aquatics offers a free, research-based aquatic therapy program provided by highly trained practitioners to veterans suffering from post-traumatic stress (PTS).
Camp Pendleton ASYMCA – $25,000

Youth Enrichment Programs

The goal of the youth enrichment programs is to promote resiliency and strengthen families by providing comprehensive social, emotional and academic support through the Fisher Children's Center for childcare, Operation Little Learners for early learning and military spouse connections, Operation Hero for afterschool support, and Camp Hero for summer camp enrichment. 
Interfaith Community Services – $25,000

Housing, Hope and Healing for North County Veterans

This project supports 700 military veterans through programs including homeless prevention, transitional housing, recuperative care, employment development and behavioral health services.
Support the Patriots Connection
For over 40 years, Rancho Santa Fe Foundation has provided a high level of service by developing personal relationships with our donors, providing exceptional stewardship of the funds invested with us, and addressing needs in the San Diego community. Whether you have specific plans for your charitable giving or you are seeking advice about how and where to give, our team can help you reach your goals. We are a community foundation offering charitable funds customized to your needs to help you put your vision into action.