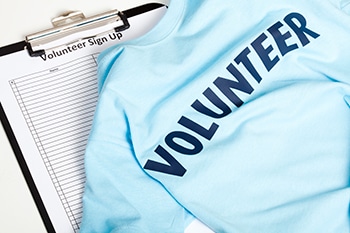 It can feel challenging to select the right nonprofit to support; this is a common phenomenon. You want to help a cause you care about, while also making sure you're working with an organization that's making a true, significant impact.
That's why we are sharing 6 things donors should look for in a nonprofit, so you can select the right one with confidence.
1. Decide what you're passionate about.
Think back to the last time you read a newspaper or online news. Was there a story about a problem in the community, one that really resonated with you? Perhaps you read about a low-income student receiving a college scholarship, a pet rescued from an abusive situation or a group addressing homelessness nearby.
The topics that stick with you help reveal what causes are truly close to your heart. Remember this next time you are online or watching TV news; it'll help pinpoint what type of cause you want to help most. Then, you can look for a relevant nonprofit.
2. Remember, it's about the small steps
Individually, we cannot take on an entire issue, but by getting involved and supporting the right organizations, we can help tackle the problem in smaller pieces. For example, wanting to put an end to homelessness in San Diego is an admirable feat – it's also a big, overwhelming issue. However, by supporting a cause that helps get people jobs and keep them out of homelessness, that's a way to take on the problem in a more manageable, highly impactful way.
3. Use local resources to your advantage
At the Rancho Santa Fe Foundation, we are here to be a resource for donors and nonprofits in the community. Visit our website and submit your question; we will be happy to walk you through these steps and address other questions.
You can also use online resources, like our San Diego Directory: A list of trustworthy nonprofits in San Diego serving the military, veterans, and their families we recommend based on careful research and rigorous evaluation.
4. Look at similar organizations
It isn't a secret that there are multiple organizations working to address similar issues. Research a few and decide which ones most closely align with your philanthropic goals.
At Rancho Santa Fe Foundation we encourage nonprofits to collaborate. We like to support programs where multiple nonprofits are working together to tackle an issue.
5. Create a relationship with an organization.
Naturally, you want to make sure your support goes to an organization that's making a true impact. To find out if they're doing the good work you desire:
Read their website for more information.
Reach out to them and ask questions. In what ways can you help this cause? What are their programs for the coming year?
Get involved. Attend an event, sign-up to become a volunteer, ask for a site-visit.
These steps will allow you to get to know the organization and those involved; you'll be able to clearly see their impact and know if you want to get more involved.
6. Long-term philanthropy is great; spontaneous nonprofit support is, too
Taking the time to vet and understand a cause and nonprofits is great. However, we certainly rally for more spontaneous help, as well. There are some types of giving that cannot be planned for. For example, perhaps a natural disaster strikes. Then, an ad on Facebook asks for texts of $10 donations for relief support.
If you have the means to support these campaigns at the moment, then get involved. There is great power in immediate emergency crowdfunding.
Ask yourself: "What kind of donor am I on a shorter term or spontaneous level?" If you like to give to a variety of causes and spontaneous efforts, monitor that – and factor it into your long-term, more intentional giving efforts.
Last, but not least
Overall, the most important message is to get involved; don't just sit on the sidelines. When we take personal responsibility to get informed or call a community foundation, like RSFF, to learn more – we are taking important steps to help a cause.
These small efforts, like reading up on this information right now, all add up to make an amazing impact.