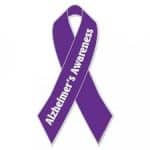 The Rancho Santa Fe Foundation welcomes a new nonprofit fund partner, Alzheimer's Association of San Diego. We are pleased to be a part of the good work this organization is doing to fulfill its mission "to eliminate Alzheimer's disease through the advancement of research; to provide and enhance care and support for all affected; and to reduce the risk of dementia through the promotion of brain health."
Are you caring for someone with memory loss?
Do you want to know the risk factors and warning signs of Alzheimer's?
Would you like to support the latest research on Alzheimer's and dementia?
Alzheimer's Association of San Diego (AASD) provides services and information that address all of these questions.
With a fund at Rancho Santa Fe Foundation, AASD will provide ongoing support for its local care and support services in North County and all of San Diego. AASD's programs include classes for family education, support groups, respite, patient services and many other programs for Alzheimer's and related memory disorders and diseases.
The vision of AASD is "a world without Alzheimer's," and Rancho Santa Fe Foundation is honored to help this organization move forward in making that world a reality.
Nearly 60 nonprofits have established funds at Rancho Santa Fe Foundation, a community foundation in North County, San Diego. Find out more about what endowment and non-endowment funds can do for your organization.