Name of organization: La Jolla Symphony & Chorus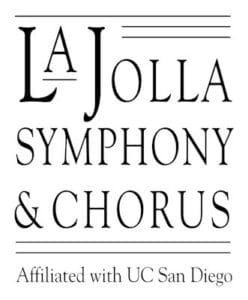 Your mission:
The mission of the La Jolla Symphony and Chorus Association is to enrich and inspire the diverse communities of San Diego by bringing together committed and passionate musicians to perform an imaginative mix of contemporary and traditional music at a high level of excellence.
What is one thing your organization is excited about this year?
We are excited to be returning to live performances on the campus of UCSD in Mandeville Auditorium. We have created an exciting season (entitled "Rising") of diverse and challenging repertoire for the orchestra and chorus. We are looking forward to being able to finally re-engage with our loyal and supportive audiences in person, after nearly 2 years of pandemic-related cancellations.
What do you wish the community knew about your organization?
The orchestra and chorus boasts a membership of singers and instrumentalists, all who perform at a very high level, repertoire that is extremely challenging and exciting. We are an independent, 501(c)3 non-profit corporation comprised of 230 volunteer musicians from all walks of life: doctors, lawyers, teachers, students, and professional musicians – a diverse and talented group with a passion for making music together.
What is one thing you and your team exceed at?
We are especially proud of our long history of diverse and adventurous programming, which continues to be central to our core values and mission.
How has having a fund with RSFF helped your organization?
RSFF has helped us to manage and invest our restricted contributions in sustainable funding mechanisms that will enable us to continue to support our mission today, and well into the future.
For those excited about your work, what is the best way to get involved? Check out our website at www.ljsc.org!