North County Senior Connections (NCSC) is a collaborative program between a funder, the Rancho Santa Fe Foundation, and two nonprofit organizations, Dreams for Change and Interfaith Community Services.  The results from the program's six-month pilot phase reveal three key steps for successful collaborations.  (Read the NCSC Six-Month Report.)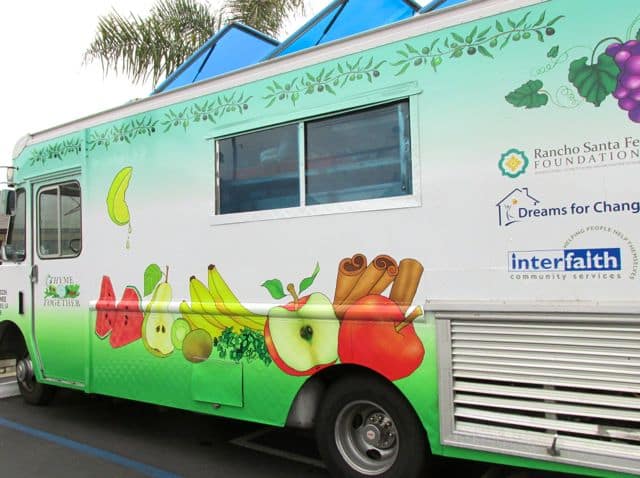 Identify the Purpose
When the Grants & Projects Committee of the RSF Foundation was launching a multi-year grant for a program to address senior needs in North County San Diego, they sought to better understand the food and transportation needs of the vulnerable senior population.  The committee requested a needs assessment by the Caster Family Center for Nonprofit and Philanthropic Research at the University of San Diego.
The study found that the seniors benefit most from a combination of food and social time and that transportation is a challenging issue in the North County region.  The Caster Center report recommended that the program should "bring the food to the seniors" via a food truck.
Define Roles and Responsibilities
Since 2012, Dreams for Change has operated a food truck that serves the nutrition and hunger needs of the homeless population in San Diego.  The nonprofit's role in NCSC was first to purchase the food truck and prepare it for the program, from upgrading the interior to wrapping the exterior with the new Thyme Together graphics.  Dreams for Change also handles all the senior nutrition research, menu development, and food buying and preparation.
Interfaith Community Services provides a range of supportive services for vulnerable populations in North San Diego County.  For NCSC, they provide the program manager to arrange for the educational and recreational programs at the lunch sites.  They also have a case manager available at the lunch sites to refer and connect seniors to information and additional support services they may need.
The Rancho Santa Fe Foundation, as a funder, provides a multi-year grant to fund the food truck, staff and subsidies for the meals.  The Foundation continues to seek collaborative support for the program from other foundations, businesses and individuals to fully fund the program over three years.
Set Clear Goals
The three collaborating organizations set goals for the six-month pilot program.  These goals allowed for effective evaluation of both the quantitative and qualitative impact of the meals and socialization elements of NCSC.  The program served over 2,400 meals to more than 300 unduplicated seniors, and 77% of participants reported improved nutritional security and improved quality of life.
The organizations will use the results of their six-month evaluation to set longer-term goals.  The Grants & Projects Committee at the RSF Foundation has also enlisted the Caster Center to provide ongoing evaluation and assessment of the impact of NCSC.